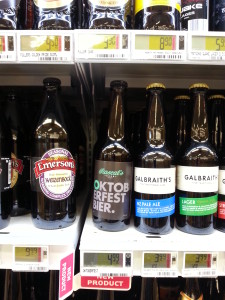 We've been commercial brewers for a week!  I'm counting it from when we made our first sale. It's been a roller coaster, with more highs than lows. The moment when New World Island Bay agreed to stock our beer was pretty special. Seeing it on the shelf next to all the 'real' beers was is amazing, I get a kick out of it every time.
People who work in craft beer are really nice. It's been said so often it is becoming a cliche, but it's true. I've avoided any job involving sales in the past, the whole idea gives me the hebejebes. So the idea of loading up with samples and touting our beer around town filled me with dread. But it was OK, actually better than OK, once I got over my nerves it was fun. I met some nice people, who are interested in what we are doing, had some great conversations about beer and left behind samples – can't really ask for more than that.
Lots of people are trying the beer and so far the feedback has been extremely positive.  I always worry that people are just being nice to our face.  But, then there was another first when complete strangers started giving us four-out-of-five ratings on Untappd so I guess that people really do like the beer after all!  Then there was the person who drove to Island Bay from Kapiti to buy some – really must get our distribution sorted out.
There are lots more firsts to come.  I just took our first order for a keg so we will be on tap for the first time ever real soon!
Vance
Rascal King